Congratulatory Letter from Secretary General of CPC Central Committee and Chinese President Xi Jinping
author:  |  source:人民日报  |  Update time :2018-09-17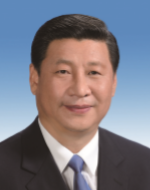 BEIJING, Sept. 17, 2018 (Xinhua) -- President Xi Jinping sent a congratulatory letter to the World Conference on Science Literacy which opened in Beijing.
  Xi pointed out that science and technology (S&T) are the primary productive forces, and innovation is a crucial driving force behind development. At present, the rise of a new round of global S&T revolution is having profound impacts on the development landscape of the world and bringing significant changes to the way we work and live, and strengthening the coordinated innovation of the S&T industry and all sectors of the society while advancing openness and cooperation between countries is an important approach to enhancing the role of the S&T development in the progress of human society, he said.
  Xi stressed that China has been attaching great importance to science popularization and constantly improving the science literacy of Chinese people. China had been active in exchanging ideas with other countries on promoting science and enhancing science literacy, in a bid to facilitate the sharing of development achievements and the joint building of a prosperous world. He said he hoped participants would exchange opinions on how to popularize scientific knowledge, advocate scientific spirit, disseminate scientific concepts and promote scientific approaches, so as to better learn from each other and contribute to improving science literacy, sharing scientific achievements and advancing the building of a community with shared future for mankind.
close window